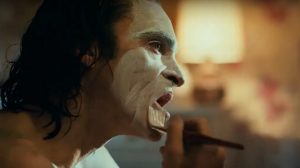 Pending its scheduled release in Italian theaters on October 3, a new epic spot of Joker , extremely cynecomic with Joaquin Phoenix in the role of the arch-enemy Batman.
As we now know, the film takes place several years before Bruce Wayne became the Bat Man, and focuses on how Arthur Fleck (Phoenix), as a normal inhabitant of Gotham City, is then totally crazy and finally transformed in a famous criminal. Conducting the work is Todd Phillips , which is inspired by the masterpieces of Martin Scorsese ( King for one night e Taxi Driver in primis) has given life to a tough, violent and raw cinecomic that was highly appreciated by the critics present at the 'last Venice Festival , where the film was awarded Golden Lion .
There are already those who consider Joker a potential candidate for the next Oscar (with Phoenix in pole position as Best Actor): we do not know if the Academy's jurors are actually ready for such a dark cinecomic, but if in doubt, enjoy the fresh spot of publication below!
Article Joker: cinecomic's new epic spot with Joaquin Phoenix comes from Best Movie .