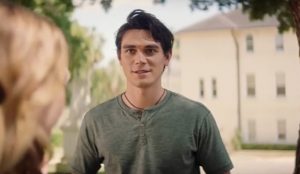 KJ Apa and Britt Robertson , the stars of What you leave me with you , wish Happy Valentine's Day to the fans with a new clip of the romantic film coming out in Italian cinemas on 19 March.
What do you leave me with , remember, is inspired by a moving true story and tells of the love of singer Jeremy Camp for his girlfriend Melissa. The two very young decide to get married despite the girl's serious health conditions, and from this experience the song I Still Believe is born, one of the most famous songs Jeremy Camp and film soundtrack.
Directed by Jon and Andrew Erwin , the feature boasts a cast that includes also Gary Sinise, Shania Twain, Melissa Roxburgh and Nathan Dean Parsons . Here are Valentine's Day greetings and the clip:
What you leave me: KJ Apa and Britt Robertson wish fans a Happy Valentine's Day with a new clip from Best Movie.